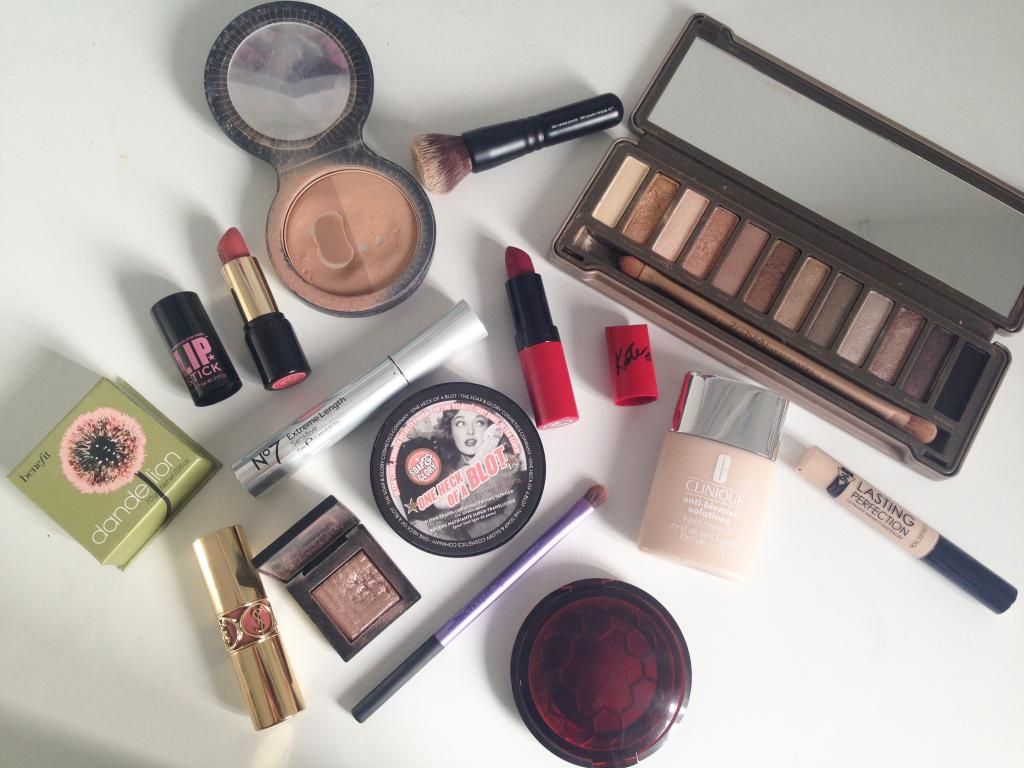 Today I thought I'd do something a little different, and introduce you guys to the beauty products that I love and use on an every day basis. I mostly use high street products, however there is a few high end ones in their too.
For my base products I stick to what I know, mainly anyway. My foundation has seen a few changes over the past year, but I may have found my Holy Grail foundation, yes I said it, I uttered those words. But I think I may have found it in the Clinique Anti-Blemish Solutions foundation. It's medium coverage and is really easily buildable, which I love as that means it covers all my spots, marks and scars. It also lasts allll day, I wore it throughout our trip to Florida, and it lasted amazingly with and without any sort of primer. The bottle is also deceivingly small, I've been using the same one since mid July, and it's only just running out! My concealer of choice is that old cult classic Collection Lasting Perfection Concealer, it really is great. I use it for spots and under my eyes, and for the price, I'm completely sold! A long time favourite of mine has to be Soap & Glory's One Heck of a Blot Powder, I've been loving this for a few years now and as someone with quite oily skin, it's awesome! It's translucent so doesn't add any extra coverage but simply helps to matify your skin abit.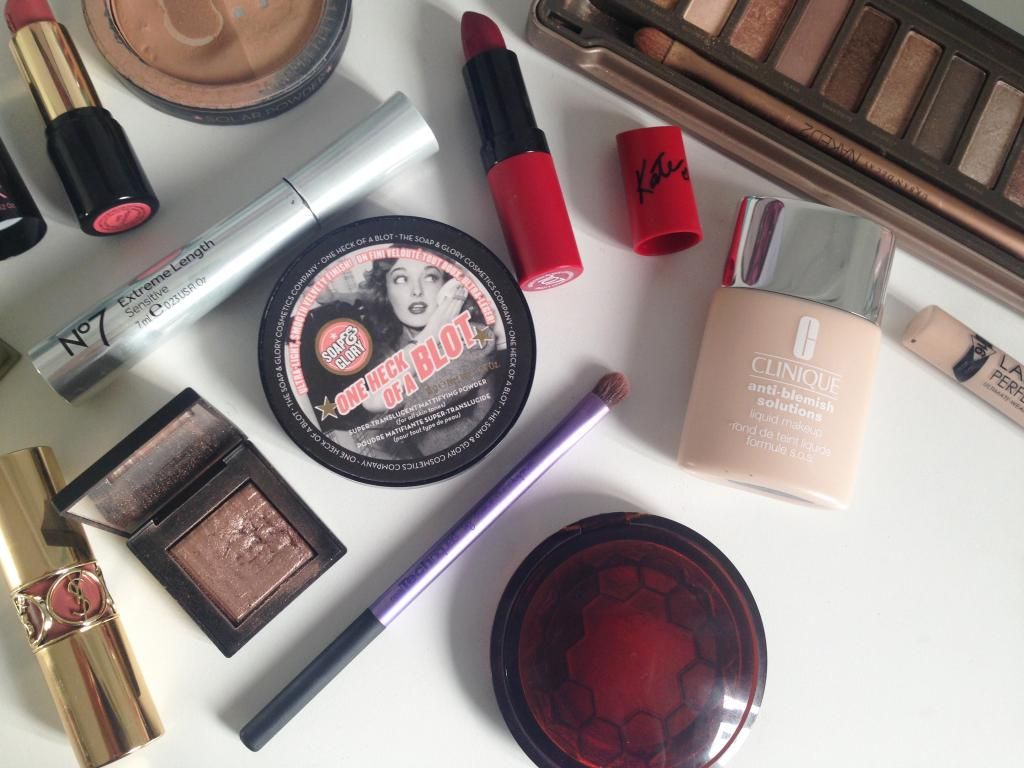 My Naked 2 palette is an absolute favourite of mine, it's full of amazing gold, bronze and copper colours, perfect for creating smokey eyes, and for every day looks too. Half Baked and Chopper are my two favourites, I've been loving trying different combinations out lately, and Snakebite goes with them both amazingly! Another of my higher end products that I've been using alot at the moment is the Nars Dual Intensity Eyeshadow in Himalia. It's such a pretty and dainty eye shadow, yet is bizarrely versatile, in different lights or layered over other eye shadows it looks like any number of colours from gold to silver, and copper to purple, yep I told you it was a weird one. Weird but good though, as it really is so so beautiful. My go to mascara has been the same for about the last 3 maybe even 4 years, and it's the No7 Extreme Length Sensitive. I just have a whole lota love for this mascara, it's fab and gives amazingly long and defined lashes, plus it's from the high street which makes it even better! When it comes to eye shadow I'm also being a little bit of sneak, as I adore using Soap & Glory's Solar Powder Bronzer as a cheats every day smokey eye, it has a goldy shimmery side and a matte light brown side, perfect for creating a really subtle and understated but pretty smokey eye, that is super super easy!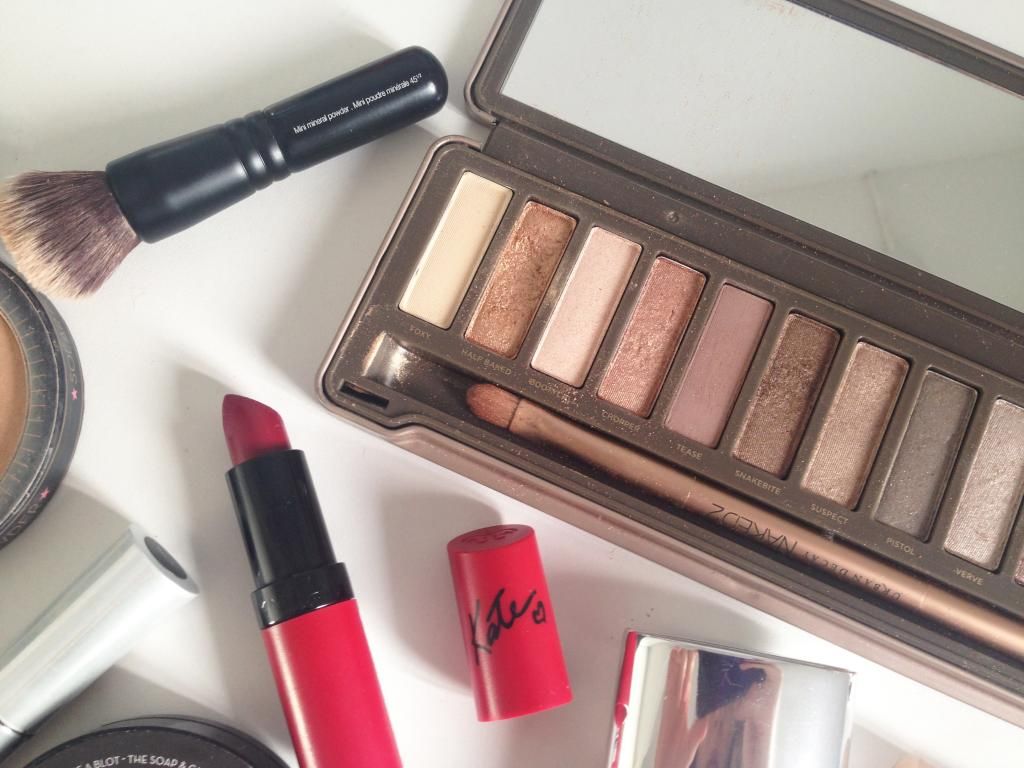 The
Body Shop Honey Bronzer
is my bronzer of choice at the moment. It's quite light, which is great for those of us with paler skin, and it's just really fab and easy to use. I'm alternating between two different blushes at the moment, the first is
Benefit's Dandelion
. It's a light pink blush, with a little shimmer running through it, but the lightness of it means its perfect for every day. Now in typical Holly style I completely forgot to include the other blush that I've been using alot, but it's the
Hourglass Ambient Lighting Blush in Luminous Flash
. Hourglass are known for their absolutely stunning blushes, and you can check out the one I have in this (
here
) instagram picture. It's a beautiful pinky peachy tone, however I have to be careful not to be too heavy handed as it can be a little bit OTT if I'm not paying attention and just wack it on!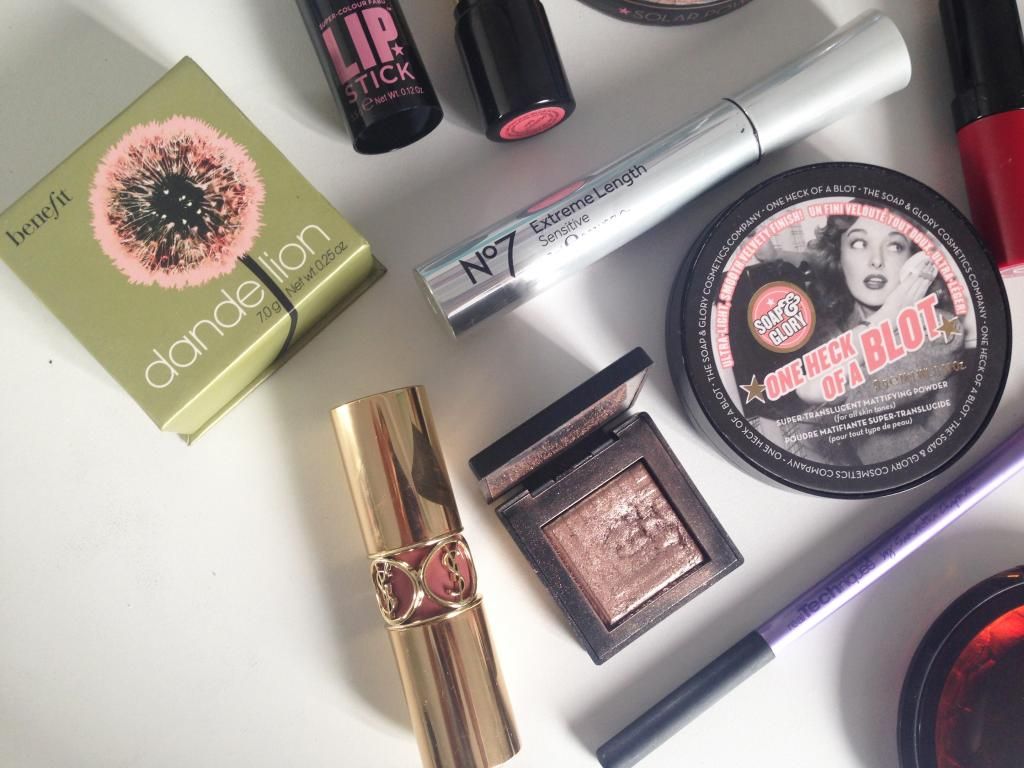 Last but not least is the lipsticks, some people see them as a going out or evening thing, but me, I hardly leave the house not wearing one! I just love lipstick, and although my collection is pretty small, (7 if you're wondering) I'm pretty happy with the ones I've got so far. A more recent addition to the collection is Rimmel's Kate Moss Lipstick in 107, it's a deep pinky plumy redy colour, that is just perfect for autumn winter, if you follow me on Instagram (holljc) then the majority of the pictures of me with a red/dark lip will be 107. Another recent purchase is Soap & Glory's Super Colour Fabu Lipstick in Perfect Day, this is a really pretty every day pinky beige that is just really easy to sweep on and go. The last Lipstick that I wear alota lot, is a very high end purchase that I made in duty free on the way back from Florida, and that is my YSL Rouge Volupte in 3/Ultimate Beige, this was defo a very indulgent purchase, but I needed to use up the last of my dollars! As the name suggests the lipstick is a very wearable beige colour with a slight hint of pinky brown, which I just love!
So those are the products that I wear on a daily, or nightly basis. If you want to see more beauty related posts over here on the blog, then please let me know in the comments and I'll see what I can do!
Love
God bless