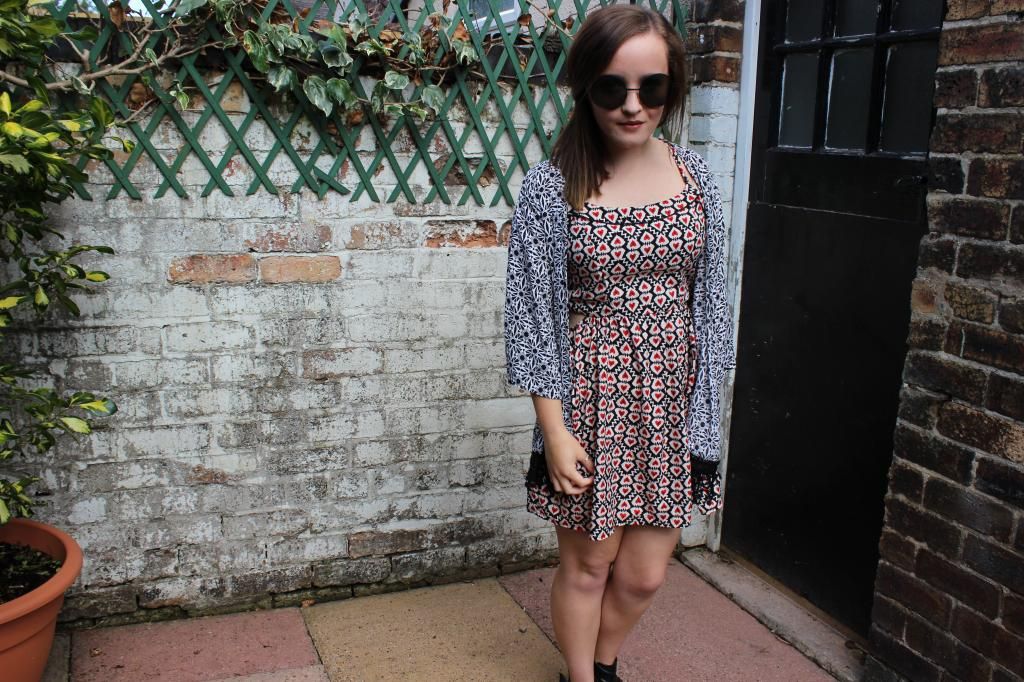 Outfit
Dress - Lefties Kimono - Newlook
Boots - Primark Sunglasses - Ebay
Rings - H&M, Camden Market
I've been loving mixing prints recently, I've found it just gives a completely new breath of life to any outfit or item.
The few days before I went on holiday were absolutely crazy; packing, sorting things out, meeting up with people, and just generally rushing about. What didn't help was the fact that 99.99% of my summer clothes were packed in the suitcase ready to go, and we were experiencing a mini heat wave, well, what us Brits would call one anyway. This meant I had to get creative with the clothes I had left in my wardrobe, as I didn't want to die of heat stroke before I'd even set foot in the states.
And so, this outfit was born., and I've been in love with it since. This dress is a really really old one, that used to be somewhat small for me, meaning it regularly got moved to the back of my wardrobe. However trying it on a few weeks ago, for what must have been the first time in months, I found it fitted perfectly and I loved the pattern even more. Needing an extra layer I popped my wonderfully monochrome Newlook cardigan over the top, and have been ready to go ever since!
Love
God bless